Creamy Vegan Cauliflower Soup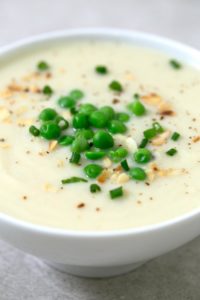 Creamy Vegan Cauliflower Soup
Prep: 5 mins
Cook: 25 mins
Total: 30 mins
This creamy vegan cauliflower soup is so light and simple. One of our favorite veggies, we really enjoy this amazing recipe.
Ingredients
2 tbsp extra virgin olive oil
4 cloves of garlic, chopped
1/2 chopped onion
1 head cauliflower, cut into florets
2 cups vegetable broth (500 ml)
1 cup unsweetened plant milk of your choice (250 ml)
1/2 tsp sea salt
Pinch of ground black pepper
4 tbsp nutritional yeast (optional)
Instructions
Heat the oil in a large pot and add the garlic and onion.
Cook over medium-high heat until golden brown.
Add the cauliflower, broth and milk and bring it to a boil. Then cook over medium-high heat for about 15 to 20 minutes or until the cauliflower is soft.
Add the salt, black pepper and nutritional yeast and blend using an immersion or a regular blender.
Serve with your favorite toppings. We added some peas, toasted almond slices, chopped chives and more ground black pepper.